Current Team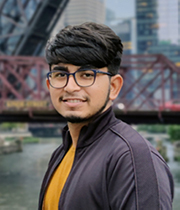 Aashay Gondalia
Research Assistant
Office: Luddy Hall 4014
Phone:
Fax:
E-mail: ude.ui@dnogaa
Education
I am currently pursuing my Master's in Data Science at the Luddy School of Informatics, Computing and Engineering.

Background
I have worked on numerous projects spanning across from Augmented Reality, IOT, Artificial Intelligence, Language Models (Chatbots), Mobile Application development. I love to explore new technologies (currently following Quantum-ML actively)

Personal
My hobbies are playing soccer, hiking, trekking. I love role-playing games (such as Mafia) and enjoy reading tech and business articles.