Current Team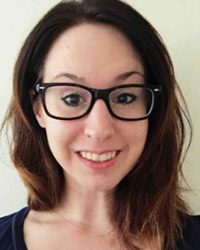 Sara Bouchard
Senior Interaction Designer
Office: Luddy Hall 4016
Phone: 812.856.7034
Fax: 812.855.6166
E-mail: ude.anaidni@rahcuobs
Education
Bachelor of Science, Computer Graphics Technology. Purdue University, Indianapolis, IN

Background
After graduating, I took a job working as a designer on print and experience design projects. Shortly after, I dove head first in web design working on small business and non-profit websites at an agency. I fell in love with how people interact with information on the web and am passionate about web typography.

Personal
I enjoy listening to podcasts, discovering new antique stores, and hanging out with my 9lb. poodle, Zooey.