Current Team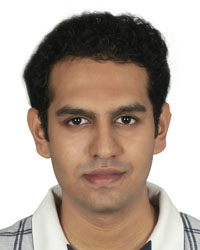 Jivitesh Poojary
Software Developer
Office: Luddy Hall 4025F
Phone:
Fax:
E-mail: ude.ui.liamu@yrajoopj
Education
Currently pursuing a Masters in Data Science at Indiana University Bloomington. (2016 - Present) He also holds a BTech in Information Technology from VJTI - Mumbai, India (2009 - 2013)

Background
I have professional experience of over 3 years in different roles - Research Fellow for Government of Maharashtra, Business Technology Analyst for Deloitte Consulting and Data Analyst for AIILSG-Mumbai. He is passionate about understanding of complex data analysis processes, machine learning algorithms and their visual representation to deliver value to organizations. Currently he is also serving as the Director of Professional development at IU Data Science Club, a graduate student organisation.

Personal
I'm curious about how things work and love taking on new challenges. I love travelling, meeting new people and learning new things. I also like playing soccer and riding my bike whenever I get time.