Current Team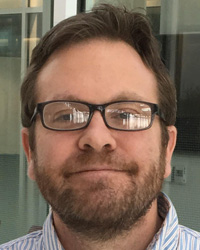 Christopher Emge
Project Manager
Office: Luddy Hall 4020
Phone:
Fax:
E-mail: ude.anaidni@egmec
Education
BS, Public Affairs, Indiana University, Bloomington MPA, Public Administration, Indiana University, Bloomington Concentration: Public and Municipal Management

Background
I am a lifelong believer in public service. My professional and volunteer life includes over two decades of commitment on local and national issues related to housing, energy, K12 education, public health, and childcare. I set out to change the world but what I have been able to accomplish is to make the neighborhood a bit better place to live.

Personal
I like throwing out bad one liners related to history, politics, and pop culture. For the last year I was stay-at-home father with my two year old where we enjoyed roaming big box stores, touring Bloomington's parks, and hanging out at the Banneker Center. My crazy obsession is as a Deadhead "deadicated" to all things Grateful Dead. When we can get out, the wife and I enjoy a fine dining experience at one of the many wonderful eateries in town.