Current Team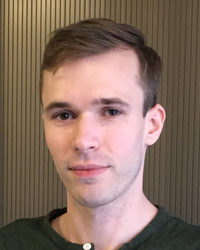 Anders Johnson
Graduate Assistant
Office: Wells Library 028
Phone: 812.855.5120
Fax: 812.855.6166
E-mail: ude.ui@532ja
Education
Bachelor of Arts, Rhetoric, UC Berkeley MA, Comparative Literature, UC Irvine Current MLS (Library Science) student, IU Bloomington

Background
My higher education background has been largely concentrated in the humanities, particularly in areas of literature and continental philosophy. Previous to this I taught composition courses at the university level and acted as a teacher's assistant in European studies. In addition to working at the CNS center I am a library supervisor at the fine arts library on the IU campus. My long-term career objective in this respect is to complete my MLS degree as well as my PhD in comparative literature and become either a professor or subject librarian, depending on the vicissitudes of the job market. I joined CNS in February 2016 as a faculty assistant to Dr. Katy Börner. My responsibilities include: managing the library resources of Dr. Börner and the CNS center, copy editing CNS documents, checking references within CNS documents, transcription work, and other various projects that aid the operations of the CNS center.

Personal
I am from California and in my leisure time I enjoy reading, listening to industrial/noise music, and playing the synthesizer.